After Life: a novel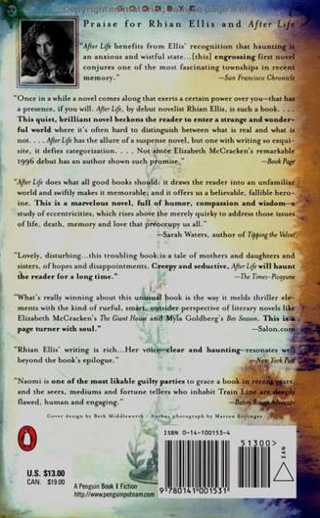 "First, I had to get his body into the boat." This ominous opening begins a tale of secrets and lies, visions, and hovering spirits. At its center is Naomi Ash, a young woman who has come of age on the frigid banks of a western New York lake community called Train Line. Here she grows up and falls in love in a town where mediums, spiritualists, and professional clairvoyants hold "psychic fairs" to help make ends meet. When the skeleton of Peter, Naomi's ex-lover, surfaces, the mystery of his death must be uncovered. In the process, Naomi, now a clairvoyant herself, unveils a world where the secrets of the dead cannot stay buried and where her past must confront her precarious present.

from Amazon.com:
"After Life is not a whodunit, not even a 'whydunit,' but some other beast entirely: a tense exploration of the ties between faith, will, and fakery--and between this world and the next... First-time novelist Ellis produces lovely prose... In its mix of the mundane and the magical, After Life gets at some fundamental truths about the dead and those they leave behind."

from Beliefnet:
"Deftly told... Readers enter a world where belief is a decision you make, spiritualism is the mortal's answer to death, real orimagined, and truth and fraud are soul mates."

from Kirkus Reviews:
"First-novelist Ellis makes an auspicious debut with this imaginatively rendered psychological suspense thriller... In impeccable prose, Ellis weaves a fascinating tale of guilt and redemption... Impressively assured and insightful."

from The New York Post:
"Rich . . . clear and haunting."